"Let's Be Saints Together!"
---
– SUNDAY MASSES WILL BEGIN SEPTEMBER 10, 2023 –
ALL MASSES WILL TAKE PLACE AT ST. BRIDGETS CATHOLIC CHURCH UNTIL FURTHER NOTICE
---
MONTHLY CALENDAR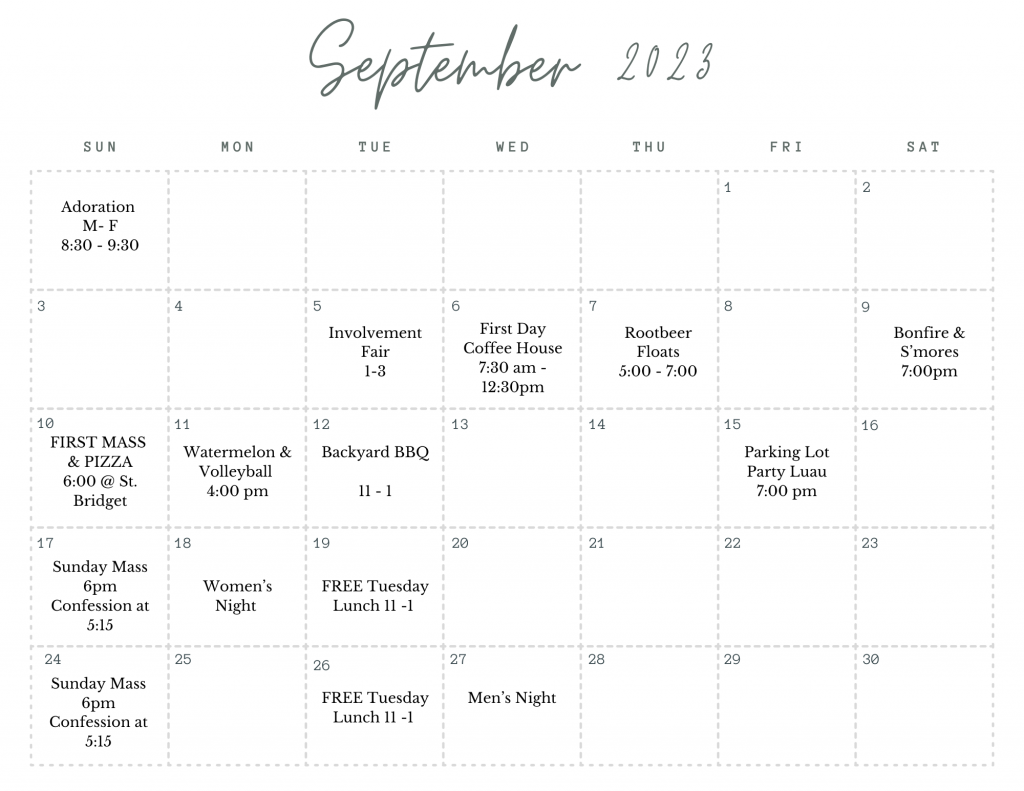 "In all circumstances give thanks, for this is the will of God for you in Christ Jesus."
– 1 Thessalonians 5:18
We've said it before and chances are good we'll say it again, we are so thankful for you, FalconCatholic 🤍 Happy Thanksgiving 🦃
…

See More

See Less
A note from the campus minister in this weeks email.
Because this is our last Monday email before Thanksgiving break, I just want to take a minute to show some gratitude. What an absolute joy it has been to work with you all this year. Our Newman Center and community has grown exponentially this semester and I am continually blown away by all of you. We aren't even halfway through the year and we have already seen so many fruits from our small groups, retreats, prayer times, and just being together. But it hasn't come without hardships and you have all handled the suffering and pain with grace, and I am constantly awed and inspired by each of you. I think about the lives of the Saints often, and all of the hardships that they had to endure on their path to Sainthood. I believe that I'm watching saints unfold before my very eyes this month. What an honor it is to be striving for Sainthood alongside all of you. I love you all and am very thankful for each and every one of you. I hope you have the best time with your families and enjoy your Thanksgiving.
Mallory
Now onto the other stuff.
There will be NO Sunday student Masses for the next two weeks (November 19 and November 26). We will be back at our usual 6:00 p.m. Mass times on December 3rd due to the university schedule. St. Bridget Mass times are Saturdays at 5:00 p.m. and Sundays at 9:30 a.m. and 11:00 a.m. We will see you back on December 3rd. The Newman Center will also be closed all of next week. We will close on Friday (November 17) at 5:00 p.m. and reopen on Monday (November 27) at 8:00 a.m. We want to encourage you to go home, spend some time with your loved ones, and enjoy a much-needed break.
…

See More

See Less